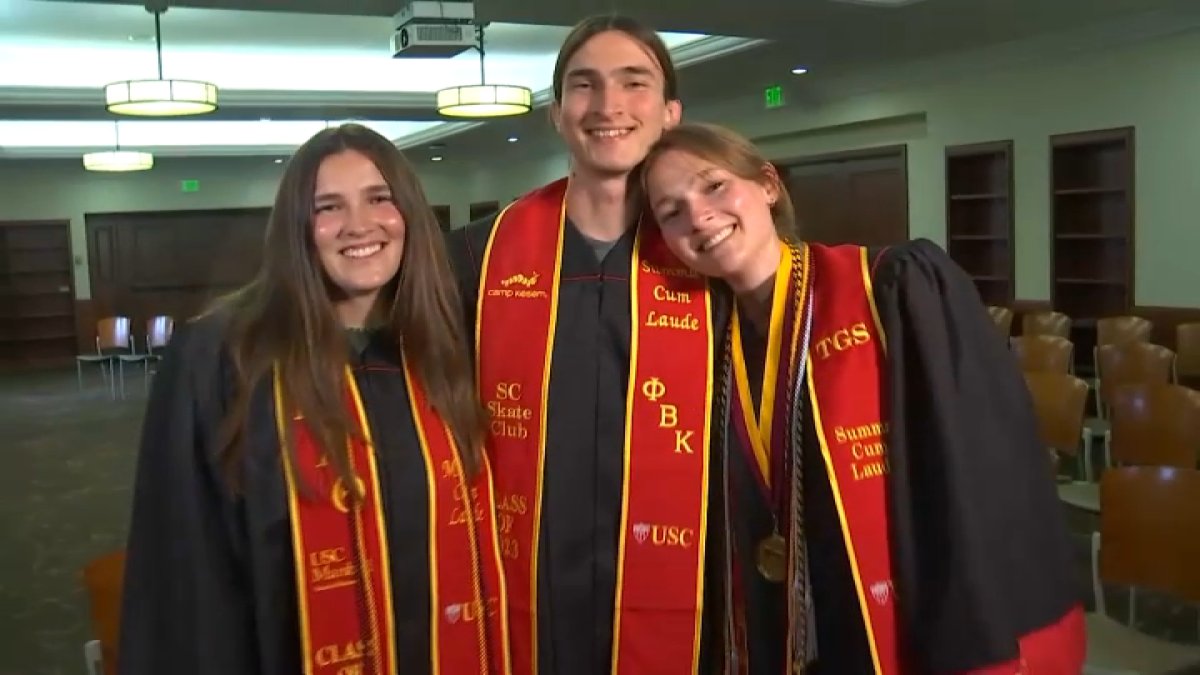 Six years after their mother's death, a group of triplets is graduating from the same university she graduated from.
Ireland, Smith and Kala Shute have been almost inseparable for the last 21 years. Now, they'll be graduating together with honors from USC after a journey that required hard work, perseverance and teamwork.
"I think, especially after losing somebody who's so foundational in your life, that a lot of people often turn to negative behaviors. And I think that for us, we really kind of stuck to what our mom ingrained in us: try our best, do what we love," Kala Shute told NBC4.
The three already graduated together from La Cañada High School and, except for a short period during the COVID pandemic, have always been in the same zip code.
The journey to graduating from USC with them all in sync has been nothing short of extraordinary.
The trio lost their mom to cancer when they were only 15. A single mom who they say worked 80 hours a week to provide, from her they learned hard work and perseverance.
"She was an incredibly hard worker. She had three jobs and she sacrificed a lot of her personal time to make sure we had everything that we could ever dream of, and we really wouldn't be here without that foundation that she set for us," Ireland Shute said.
But they have other people to thank, as well. After their mom died, the triplets were originally going to go live out of state with an aunt. However, their community didn't want to see them go.
After word spread that the siblings were leaving, one of Smith's friends since middle school, Trevor Lee, told his parents, Joe and Christine Lee. The pair, who already had two children of their own, offered the three and their older brother the opportunity to stay at their house, at least until they graduated high school.
Despite the "tight smush," the couple did everything in their power to give the triplets everything they needed to succeed. Then, in 2019, they officially adopted them.
"I think they, in many ways, saved our lives and they changed the trajectory of our entire life forever. And I don't know where we would be otherwise," Smith Shute said.
After graduating, they will be only the latest in their family to call themselves USC alumni. A brother and sister of theirs graduated from the school ahead of them. Another brother and two other family members are also currently Trojans and may follow in their footsteps.
But their motivation continues to be their mother, who graduated from USC in 1997.
"We overachieved our way here and we're all going to graduate together, and I'd like to think that she'd be proud of that," Smith Shute said.