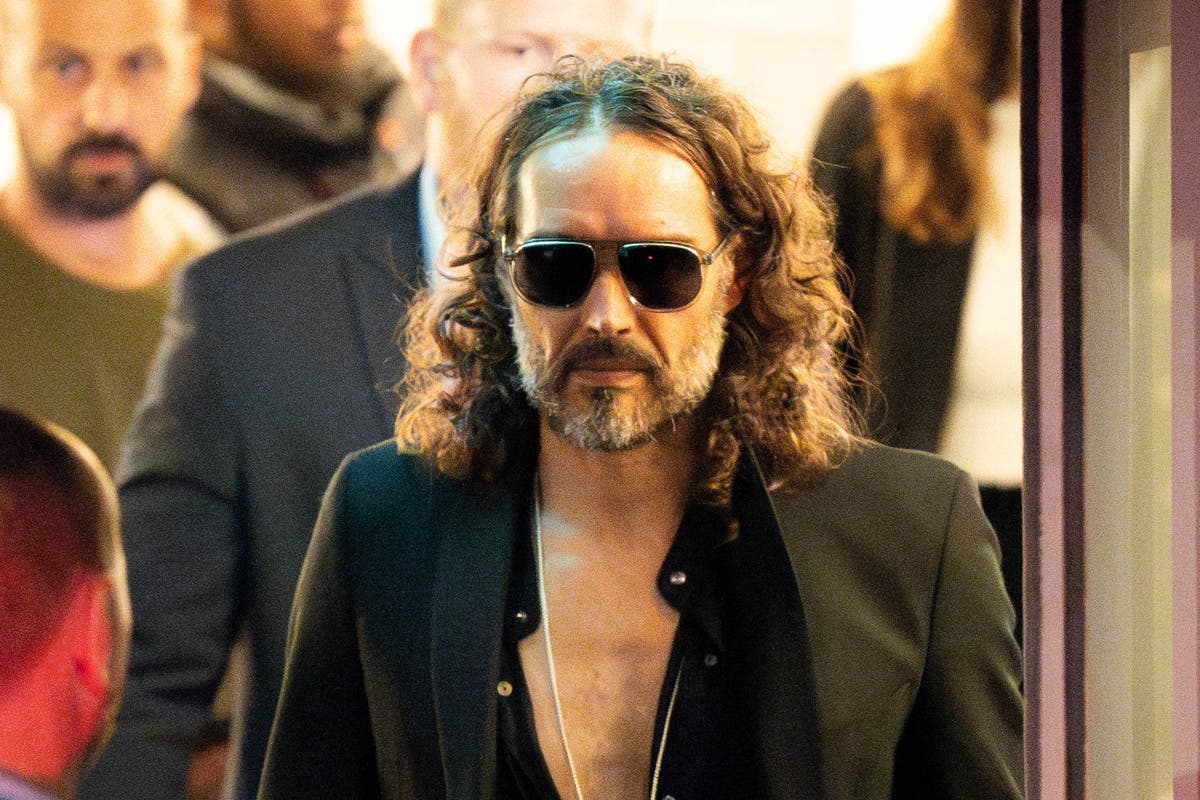 Cabinet minister James Cleverly said there are questions for the TV industry to answer after Russell Brand faced allegations of rape and sexual assault, which the comedian vehemently denies.
Four women have alleged sexual assaults between 2006 and 2013, when Mr Brand was working for the BBC Radio and Channel 4.
The star strongly denied the allegations and in a video, saying all of his relationships have been "consensual" before accusing the media of a "co-ordinated attack".
Mr Cleverly told BBC One's Sunday with Laura Kuenssberg that he thought "sadly" there were wider questions to answer for the entertainment industry in the wake of the claims.
And senior Tory MP Caroline Dinenage – chair of the Culture, Media and Sport Committee – said her committee "will be looking closely at the media, and especially our public service broadcasters, response to these allegation".
Ms Dinenage said the allegations made in the Sunday Times, The Times and Channel 4's Dispatches' investigation were "very serious and disturbing".
The committee chair said: "In yet another story of alleged power exploitation within the TV industry, his behaviour has been characterised as an 'open secret' by those in his orbit."
Ms Dineage also said that the committee was also "keen to understand the response of the police to the body of evidence collected".
She added: "We will be closely monitoring the responses of the media, especially our public service broadcasters, to these allegations, and looking at the questions that this, yet again, raises about the culture in the industry as a whole."
Access unlimited streaming of movies and TV shows with Amazon Prime Video
Sign up now for a 30-day free trial
Access unlimited streaming of movies and TV shows with Amazon Prime Video
Sign up now for a 30-day free trial
Asked about the Brand allegations, and whether there were wider lessons for Westminster given recent sexual misconduct scandals, Mr Cleverly said that both the TV industry and politics were affected by "differentials of power".
The foreign secretary told host Laura Kuenssberg that there were "real challenges where you have these very, very acute differentials in power, whether that be in the entertainment industry, whether that be in politics, and we see this in the commercial world as well".
Mr Cleverly said: "I think we have to be particularly careful when we listen to the voices of the people who are relatively powerless because we, I think, collectively have missed opportunities to do the right thing and intervene much, much earlier, and we've got to be better at this."
The BBC host mentioned a 2014 tweet by Mr Cleverly, in which he asked: "Why do the BBC give so much airtime to the vacuous, narcissistic drivel of Russell Brand?"
Damian Collins, former culture minister and ex-culture committee, said the allegations against Mr Brand about his time in the TV industry should be "investigated fully".
"UK broadcasters who have previously worked with Russell Brand should also be clear about whether they have ever received any similar allegations of personal misconduct that were made against him and if so how they were investigated and the action taken," he said.
Alongside allegations of sexual assault, the comedian and actor faces claims of controlling, abusive and predatory behaviour. Channel 4 Dispatches aired a 90-minute film which saw other women speak of their experiences working with Brand on TV sets.
During his career, Brand achieved prominence as host of Channel 4 Big Brother's spin-off show Big Mouth for three years until 2007.
In a statement, Channel 4 said: "Channel 4 is appalled to learn of these deeply troubling allegations, including behaviour alleged to have taken place on programmes made for Channel 4 between 2004 and 2007.
"We are determined to understand the full nature of what went on. We have carried out extensive document searches and have found no evidence to suggest the alleged incidents were brought to the attention of Channel 4.
"We will continue to review this in light of any further information we receive, including the accounts of those affected individuals. We will be asking the production company who produced the programmes for Channel 4 to investigate these allegations and report their findings properly and satisfactorily to us."
In 2008, Brand made headlines for his BBC Radio 2 prank, now known as Sachsgate, when he and guest Jonathan Ross left a "lewd" voicemail for Fawlty Towers actor Andrew Sachs – who died in 2016 – about his granddaughter.
A BBC spokesperson said: "As is well known, Russell Brand left the BBC after a serious editorial breach in 2008 – as did the then controller of Radio 2. The circumstances of the breach were reviewed in detail at the time."
They added: "We hope that demonstrates that the BBC takes issues seriously and is prepared to act. We will always listen to people if they come forward with any concerns, on any issue related to any individual working at the BBC, past or present."
In his video statement, posted online ahead of the publication of the claims, Mr Brand said he was facing a "litany of extremely egregious and aggressive attacks".
The 48-year-old continued: "These allegations pertain to the time when I was working in the mainstream, when I was in the newspapers all the time, when I was in the movies and as I have written about extensively in my books, I was very, very promiscuous."
He continued: "Now during that time of promiscuity the relationships I had were absolutely, always consensual … To see that transparency metastasised into something criminal, that I absolutely deny, makes me question is there another agenda at play."